Services for Lakefront Properties
Our lakefront properties services include:
Erosion Control
Water Accessibility
Boat Lifts
How We Build Effective Erosion Control Systems
We have studied the effectiveness, cost, structural integrity, failure rates, advantages, and disadvantages of hundreds of different erosion control systems. We have learned that the most effective method of erosion control is to place large (usually 3 to 5 ton) rock (referred to as "amour stone") on the shoreline on a 1 vertical to 2 vertical slope.
This design is used exclusively by both the Ohio Department of Natural Resources and the U.S. Army Corps of Engineers for this application.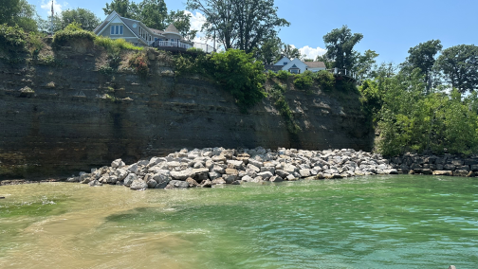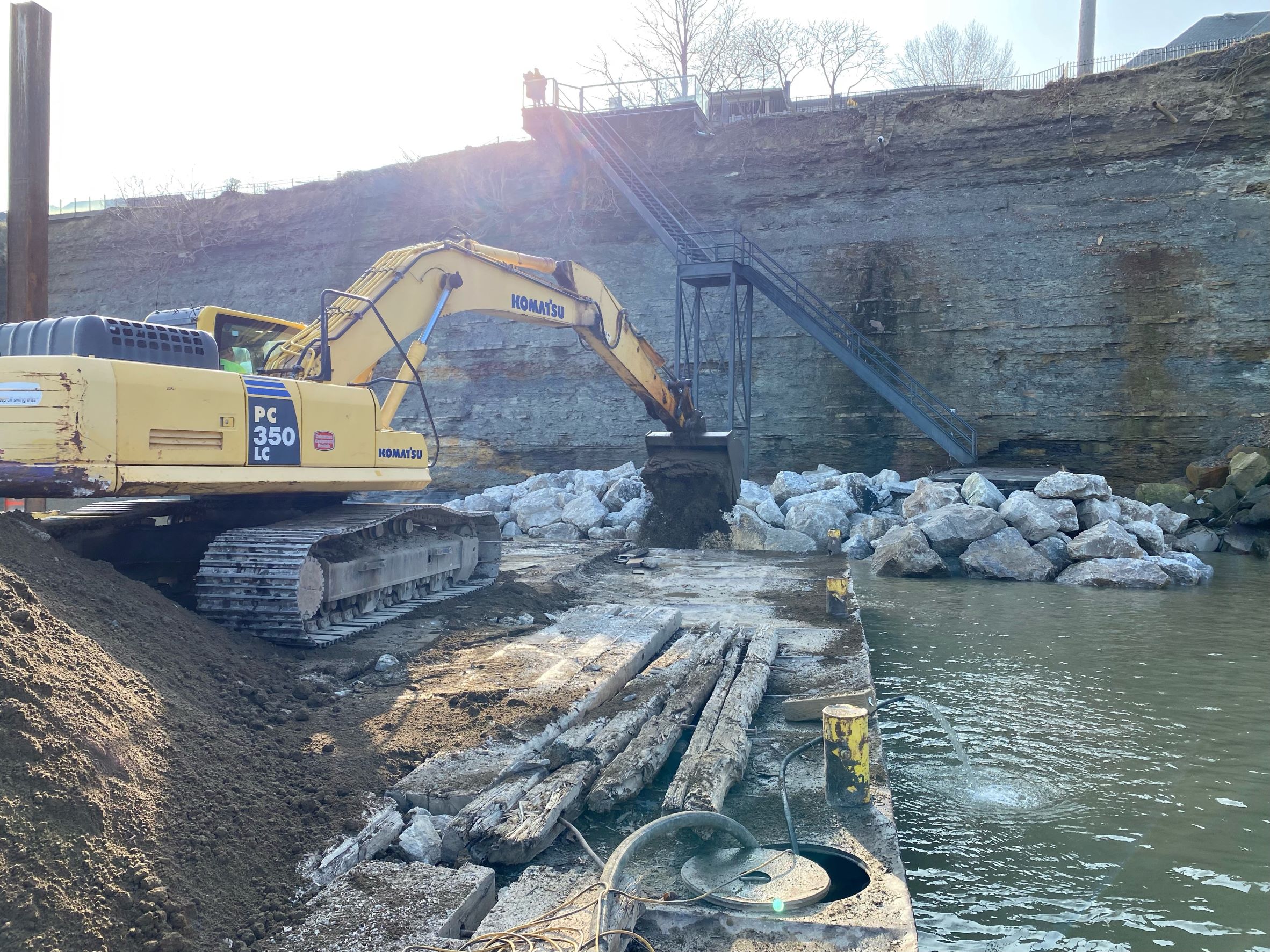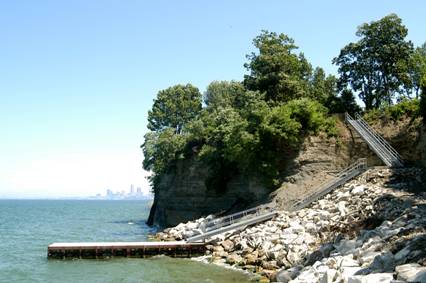 What Causes Wall Failure?
When waves strike a vertical wall such as steel sheet piling or concrete, the water is driven airborne, washing out the bluff behind the structure and covering the area with ice during freezing conditions. The water is also driven downward, scouring the toe of the structure, carrying away any beach. This action, called "downcutting", deepens the water, resulting in undermining and failure of the wall.
Why our Erosion Control System Works
In contrast, the revetment (rock on a slope) directs the waves up the slope where they lose momentum. The rough texture also reduces the runup height by 40 percent over a smooth slope, and the resulting turbulence dissipates the wave energy.
With a double layer of rock, the many voids between them absorb water like a sponge, releasing the water slowly back into the lake when the wave recedes.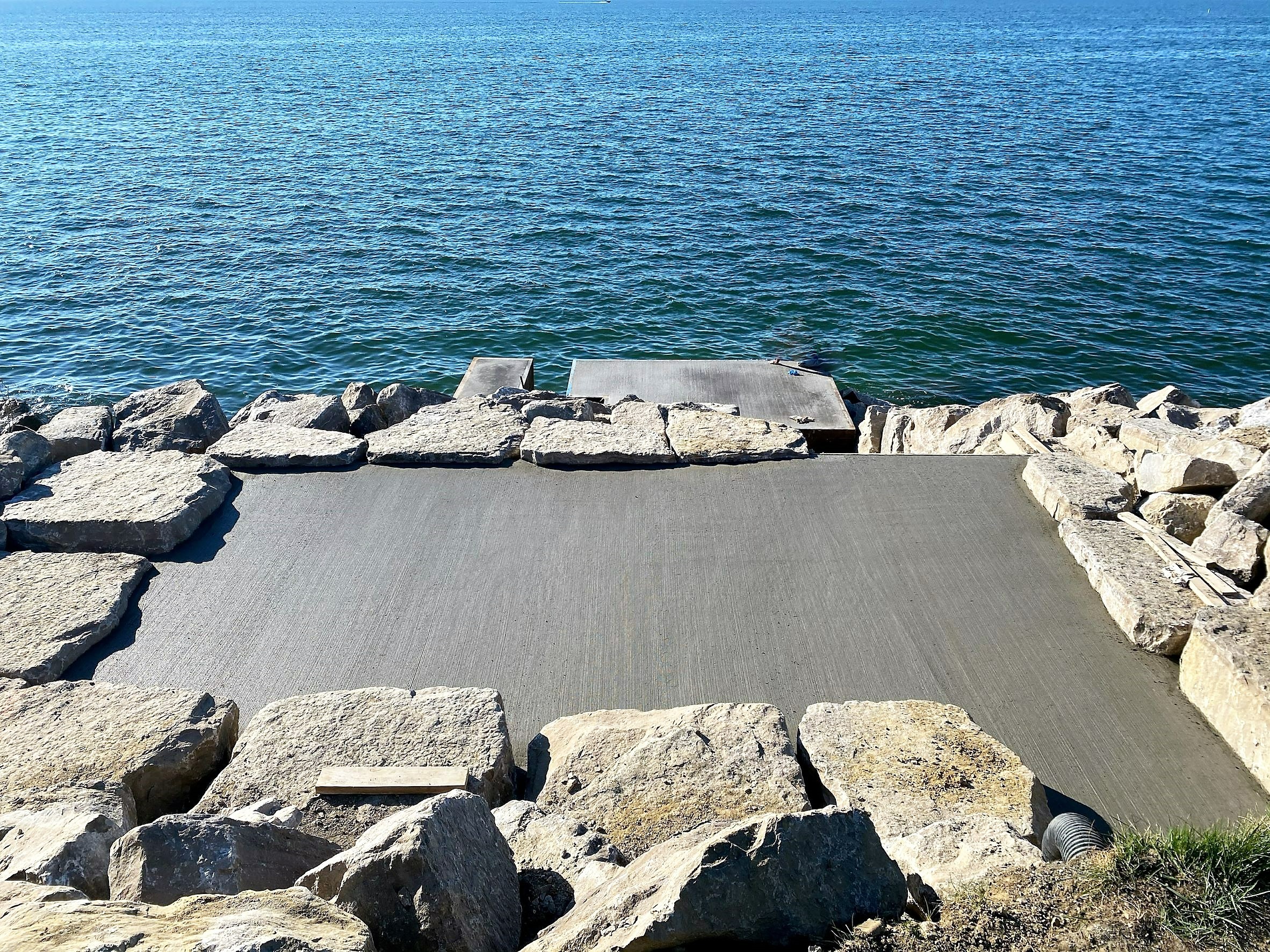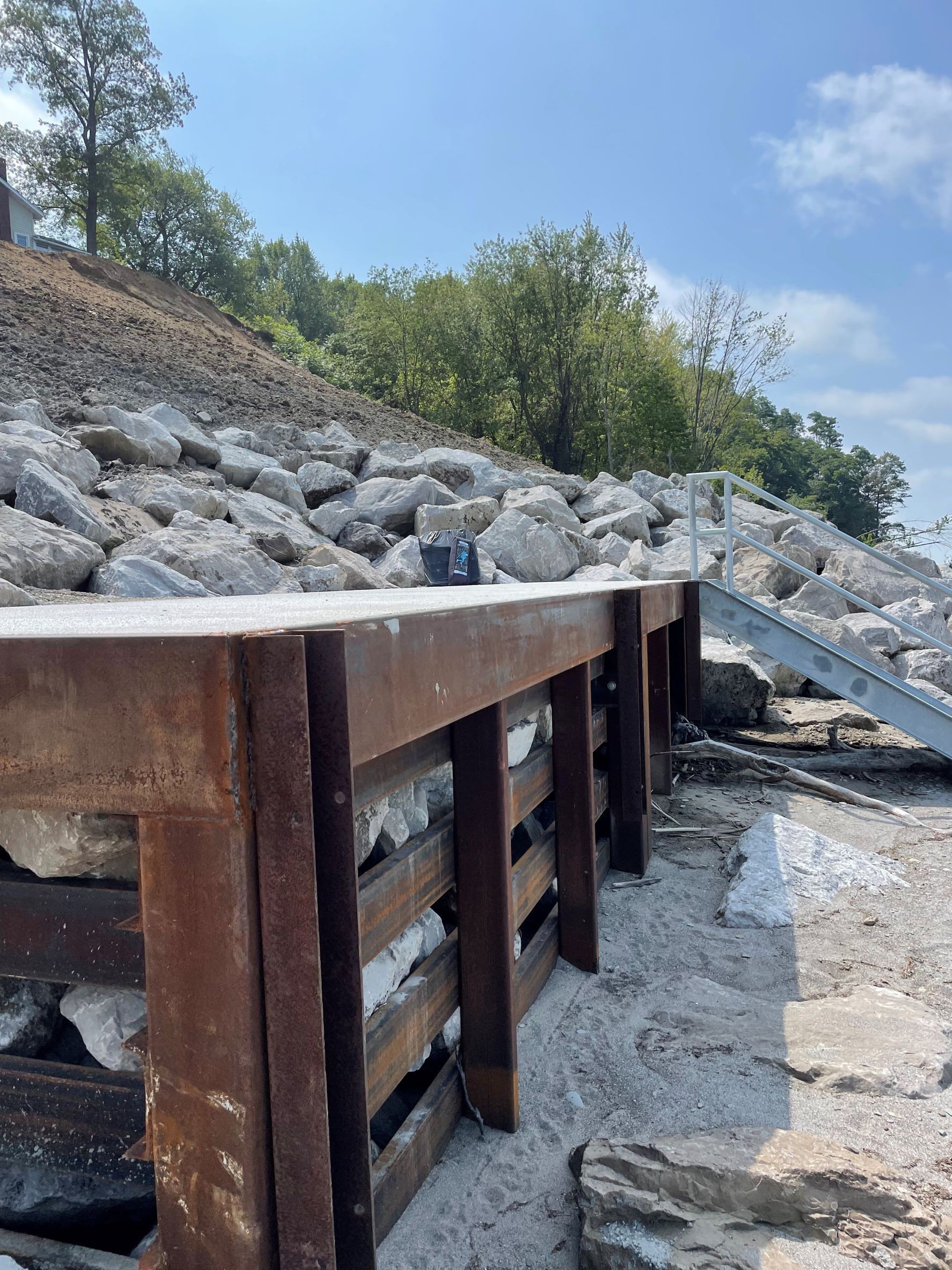 What are the Design Components?
Design components for such an erosion control system include a double layer of amour stone on a 1 vertical to 2 vertical slope; sufficient under layer of smaller rock or concrete rubble; filter fabric where the bluff consists of erodable material; backfilling and grading where the bluff is steeper than 1:2.
The toe of the amour stone must extend down to a non-erodable layer such as clay or bedrock. For most installations, the typical top elevation of the large rock is about 10 feet above ordinary high water. Since some spray can exceed this height, a splash berm of smaller rock (18" to 24") is usually applied for an additional five feet of elevation. Vegetation of the earthern slope above this completes a well designed, useful, and aesthetic control system.
Shoreline Contractors, Inc. is a certified dealer and installer of Golden Boat Lifts. Options include Kayak Launches, Jet Ski Lifts, Runabout Lifts, Post & Boathouse Lifts, Elevator Lifts, Sea Drives, and more. We are able to assist in lift selection based on the specifications of your vessel, and can advise on the best installation options for your dock and property.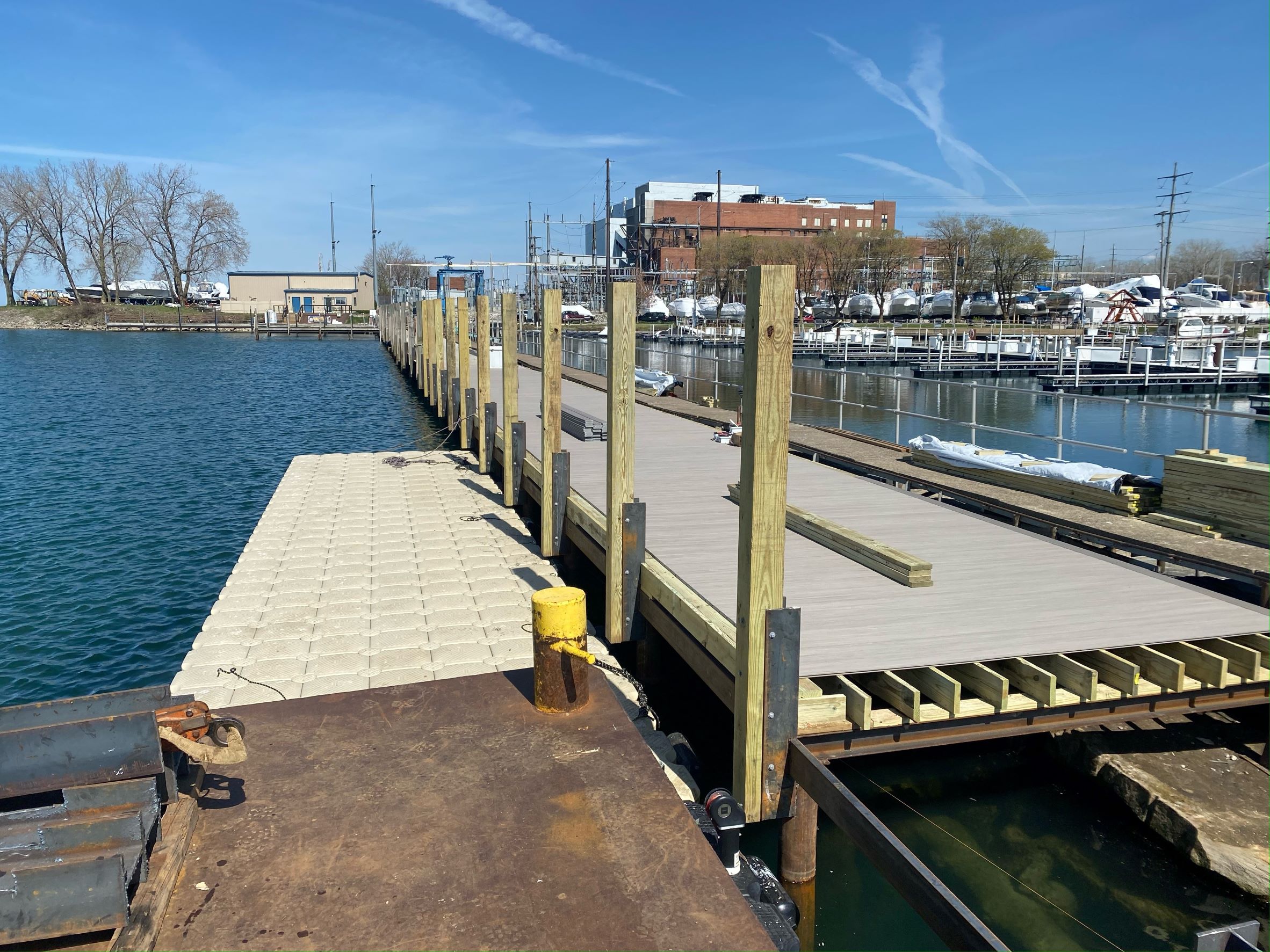 Marina Reconstruction
We reconstruct Battery Park Marina in Sandusky. The project consisted of demolition of the existing docks and stone filled cribs, closing the existing entrance with a sheetpile cell, excavation of a new entrance, construction of a breakwater extension and drilling and grouting of 15" diameter pipe piles into a limestone bottom for new floating docks.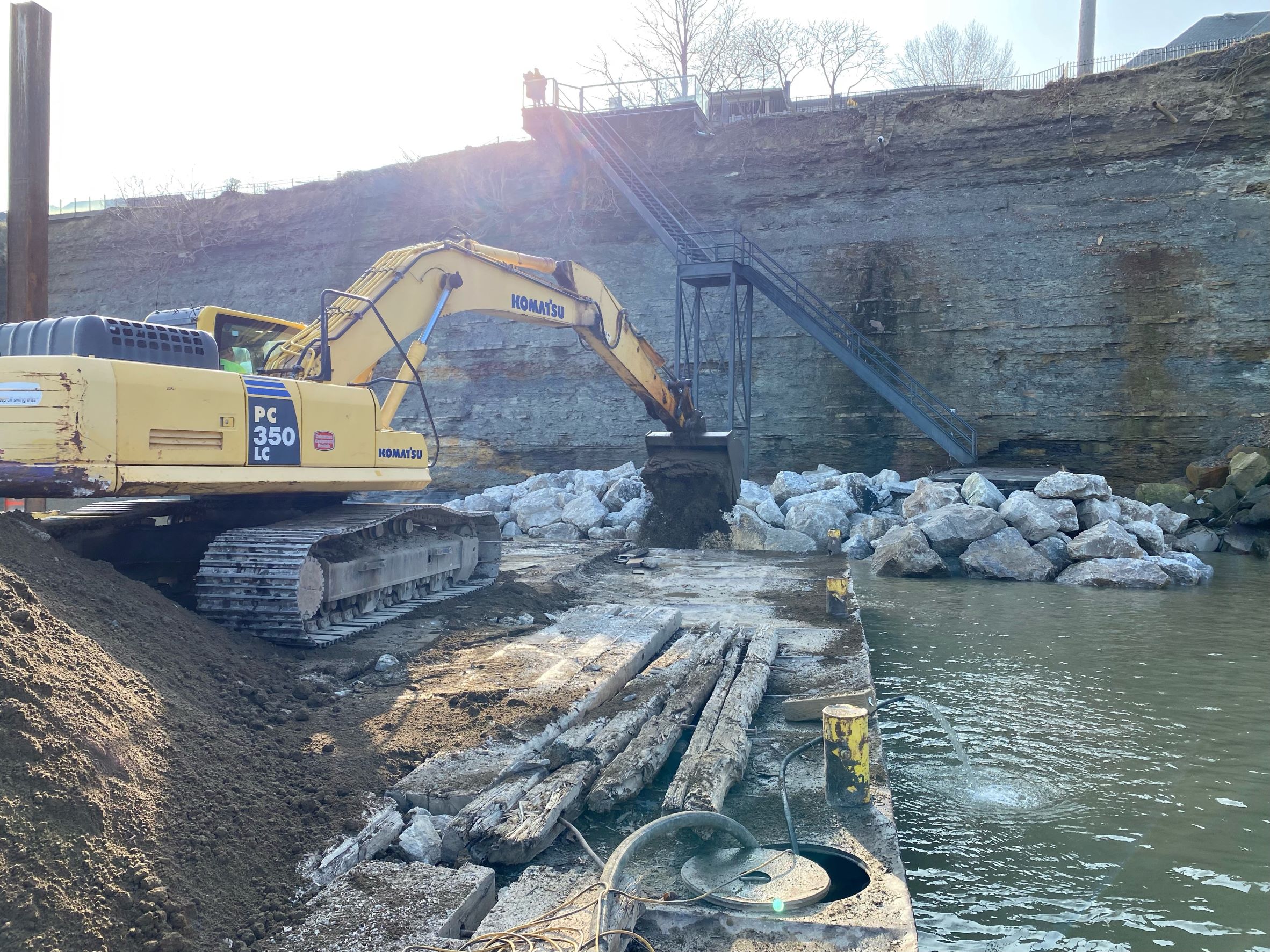 Boathouse Foundations
We were hired by a group of homeowners on Bimini Drive in Sandusky after a fire consumed their boathouses.  Our scope of work included 3 phases.  1) Demolition & Removal   2) Surveying, dredging, new sheetpile bulkheading and backfilling for 33 homeowners  3) Construction of catwalks and fire walls for boathouses.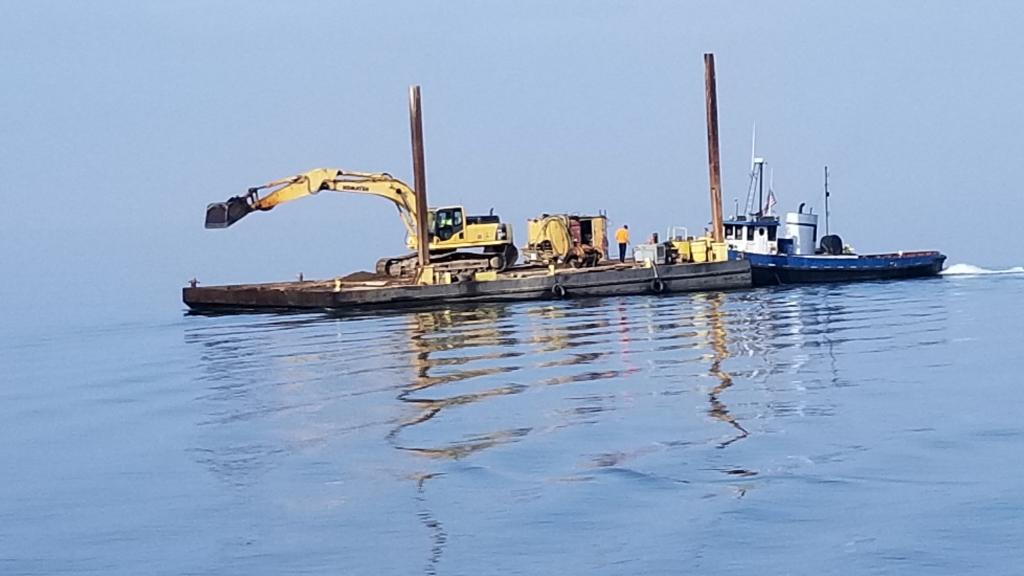 Dredging
We were secured by US Army Corps of Engineers to dredge near unexploded Ordnance which peppered the mouth of the Toussaint River resulting from testing and fireproofing artillery in the early 1900s.  The project was to determine a safe and efficient means to dredge such materials.  Blast protection shields were built and installed to protect the crew. The material was dredged by clam bucket and placed on specially constructed screens which were affixed to the tops of the dump scows. Then a high powered fire hose was used to sift the dredge material through a screen, leaving any ordnance atop the screen. Video cameras were used to monitor the screens. An ordnance team from Human Factor Applications, Inc. worked with our crew, handling and disposing of any ordnance found.